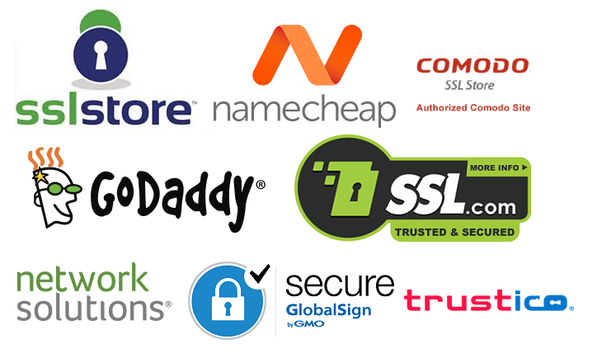 Security threat is one of the major issues when it comes to online business, this is the reason why you need to go for SSL certificate if you are running an online store or a business where customers have the option to make payment.
Some customers even don't dare to enter their personal information if SSL certificate is not present in that site. So don't wait much longer, go and get this highly secured certificate for your sire. This is the right place if you are searching for top 10 SSL certificate providers in India.
As the number of cyberattacks is increasing day by day, the need of having SSL certificate is becoming very important especially to protect privacy of visitors from hackers. As the number of SSL certificate providers are more in the market, obviously customers will have some doubts regarding the best one to choose.
They might be having some doubts regarding the best and reliable SSL certificate providers; therefore we have done the research and listed the names as well as the brief intro of top 10 SSL certificate sellers in India. This article will help you to pick the best one for your website.
Look at the below-given things before choosing SSL certificate provider
Check the reputation of SSL provider
The first thing that everyone does while purchasing any product is to check its reviews and quality, the reputation of the brand.
In the same way, you need to go through reviews given by various customers as well as the seller's reputation before purchasing SSL certificate.
First check, whether you are purchasing it from reputed seller or not.
Also Read: SSL Certificate and its benefits
Compare price and renewal details
SSL certificate can be purchased for lower price if you are first time user, please don't forget to check renewal price while purchasing because some sellers do charge more than the base price while renewals. Please check whether the seller from whom you are purchasing SSL certificate is providing or not offering auto renewal feature.
Customer support
It is one of the features that al buyers need to look before purchasing SSL certificate.  You might face some technical issues while installing the file on your website or my have any doubts regarding renewal. In such cases, you need the help of expert staff. That's why you need to look t the level of customer service provided by your seller.
Money back guarantee
Check whether the seller is ready to provide money back guarantee or not. What would you do if you are unsatisfied with the quality of service offered by your seller, you will definitely look for money back right? So try to purchase from the top 10 SSL certificate sellers in the market who will be always ready to credit back the money in between 7 to days after purchasing. Hope now you are aware about the factors to be considered before purchasing SSL certificate, now let us look at the top 10 SSL certificate providers as of today.
Namecheap
According o the customer reviews and results of our research, we have found Namecheap as the top SSL certificate seller till today. There are huge list of certificates to buy from this seller at affordable price, cost of EV multi domain SSL certificate is more as it protect multiple domains at a time. Namecheap will take less than 15 minutes to issue this highly secured certificate for your website. Go through the official website of Namecheap SSL seller to view details of various plans.
Comodo store is the best place if you are planning to buy standard SSL certificates, EV SSL, SAN or UC SSL etc. Its official website is the only best place where you can find cheap Comodo positive SSL certificate. The base rate of certificate is placed at sale for Rs.7.45 by this seller.
SSL2BUY
If you are looking for best SSL certificates at lower price for your business, SSL2BUY is the best online destination. It is the authorized re seller for some standard certificates like Rapid SSL , Geo Trust , Global sign , Symantec. The starting price of certificate at this store is $8.67 where as the price of top most SSL certificate Comodo exchange UCC SSL is $45.
Cheap SSL shop
Wondered by looking Cheap SSL shop among the list of top 10 SSL certificate sellers? Yes it does deserve this spot. It has huge number of products; they are also offering wide range of products from best sellers like Comodo, global sign, thawte etc. You will get complete idea about the plans offered by Cheap SSL shop when once you look at its official website.
Another biggie in the field of SSL certificate providers is Symantec. Along with Antivirus, it offers world class security products for various systems across the world. Ranging from SSL to code signing certificate, Symantec offers wide range of web security products to many businesses across the world. This is the right place where you can find best SSL certificate for your needs at least possible price. Symantec secure site is available at $331.76 per entire year.
Trustico
Are you looking for cheap SSL certificate? Then Trustico is the provider of low priced standard security services. Visit its website to view price range of various products offered by Trustico.
Click SSL
If you are looking for a place to buy SSL certificates top sellers across the globe like Rapid SSL , Geo Trust , Comodo etc. Then Click SSL provides you a chance for picking from these top brands. RapidSSL certificate is available at $11.66 per year where as the top one is Comodo UCC SSL with 3 SAN which is available at $90 per year.
Taking advantage of the authentication algorithms and quick issuance, Get Trust SSL is the best place to buy standard SSL for your site. Geo Trust SSL premium can be purchased for $124 per year.
ClickSSL
This is one among the top 10 SSL certificate sellers where you can pick one for your website from top sellers. Comodo EV SSL certificate is available at $90.00 per year on this website
You can compare and browse various types of SSL certificates at this portal; you can pick certificates based on the type of business that you are operating.
You might have seen or heard about Rapid SSL while looking for best SSL certificate providers. A Geo trust quick SSL premium is available at just $124 per year.