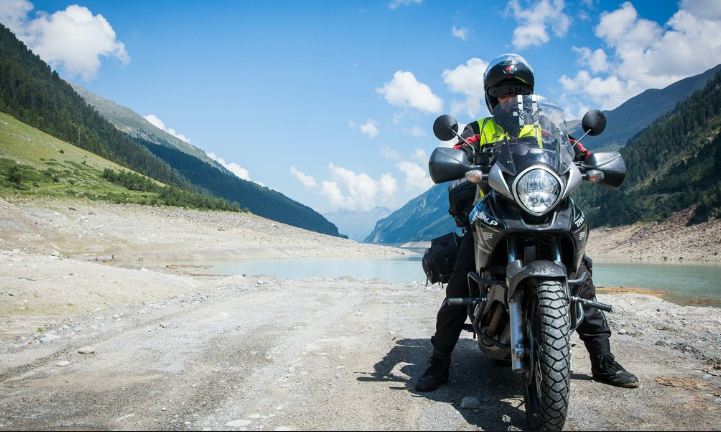 After enduring a rocky year, we've all managed to successfully step into 2021. And what better way to get rid of the 2020 blues than to go on a long road trip on a motorcycle? Bikes not only give you a sense of freedom and openness, but also make it easy for you to soak in large, expansive views seamlessly. If you're looking to casually unwind this year by going on a long getaway, here are a few of the great Indian road trips that you should consider tackling on your motorcycle.
1. Ladakh
No list of the best Indian motorcycle trips is complete without the mention of Ladakh. If there's one road trip that every biker should go on, it's this. Ladakh is all about mesmerizing views, gorgeous mountain tops, and hypnotizing lakes. In addition to the views, Ladakh also offers plenty of adventure for thrill-seekers. Many of the roads are unpaved, rugged, and rough, requiring nerves of steel to traverse.
Places to visit: Pangong Tso lake, Khardung-la pass, Markha valley, and Zanskar valley
Ideal time to visit: June to October
2. Valparai, Tamil Nadu
While this might seem quite new to many, the southern part of India houses some of the best road-trip worthy routes. Nestled on the edge of the state, this hill station is easily accessible from both Tamil Nadu as well as Kerala. The Valparai to Vazhachal forest route is quite popular amongst bikers since it takes you through the forest and into Kerala. If you're a fan of riding up and down winding ghat roads, then you'll absolutely love Valparai with its 40 hairpin bends!
Places to visit: Monkey falls, Loam's view point, Grass hills, and Nallamudi viewpoint
Ideal time to visit: Anytime throughout the year
3. Mumbai to Goa
The Mumbai to Goa route is another one of the most famous getaways amongst Indian bikers. This route takes you through NH 17 along the western coastline of the country. With exceptional roads and scenic views, this is one route that you can never get tired of. And, if you're ever feeling extra adventurous while taking on this road trip, you could even go all the way down to Kerala seeing as the NH17 extends right down to the southern state from Mumbai.
Places to visit: Raigad fort, Malvan, Margao, and Vijaydurg
Ideal time to visit: October to February
Conclusion
Now that you're armed with this information, all that you need to do next is plan your road trip. As for financing your vacay, do remember to check the personal loan interest rates, and apply for a loan.
With a personal loan backing you, you can tackle almost any long getaways confidently and with ease.