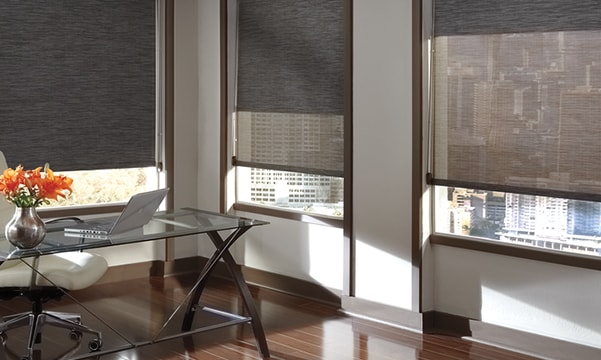 Your newly built home is all ready to set fire! Are you still confused to choose the best window shades for your home?
This article will definitely get your ideas for selecting the perfect window shades for your home. In the forthcoming paragraphs, you will come to know the importance of solar shades for your house. In fact, they are a lovely alternative to the traditional window treatment. They are made of special materials that block sunlight and UV rays. Solar shades have numerous benefits as compared to conventional drapes, blinds, and other window coverings.
Let's discuss the primary features of the solar shades –
Feature 1: Solar shades are available in various fabrics
A solar shade is as good as the fabric that is used to make it. There are different types of fabrics such as polyester, basket weave, grass cloth or grass weave, jute and many more. The textile material that is basically made with plant fibers is all natural and healthy for your home as well.
Feature 2: Interior and exterior solar shades
In terms of energy efficiency, it is certain to say that exterior solar shades have always proven to be efficient as compared to the interior shades. According to the research, exterior shades minimize the cooling demand whereas, interior shades reduces cooling demand.
Feature 3: Inside mount & outside mount shades
The positive thing about the inside window shades is that it helps to frame the treatment to provide a finished appearance. On the other hand, outside mount helps in eliminating the light gaps on both sides of your window covering. They are especially suitable for non-square windows.
Feature 4: Higher solar reflectance & lower solar transmittance
Another good thing about the effective solar shades is that they provide higher solar transmittance and lower solar transmittance. It is good for your health that there is a filtration of the energy. High reflectance means that the fabric is able to reflect the solar energy properly.
Some of the top benefits are discussed below –
Protects your home in the summer from heat
Solar shades are generally made with polyester weave and PVC coating for more durability. They are specially designed to block heat and sunlight, preventing unnecessary heat from entering your home. In the summer, interior space can be quite comfortable because most of the heat is then blocked.
Reduce energy costs
Solar shades can minimize the energy cost by at least 15% and it also decreases energy transference. In other words, it can be said that they keep your home cooler in the summer and warmer in the winter. It also saves you a good amount of money in the long-run. It reduces the energy bills by cutting your cost to the electricity bills.
It acts as a sunscreen for your home
Solar shades will absorb heat and provide the essential UV protection to the home. These shades are also designer and look very clean in any style of home. A modern home can make a statement with an all-organic and natural touch in a stylish pattern. The percentage of solar shade eventually refers to the transparency of the weave in home. For more visibility, it is recommended that you should go for some better-quality solar shades.
Easy to install
Solar shades are easy to measure and install. You need not do much for this; simply you can take the help of a professional for easy installation and maintenance. The shipping is fast and you get everything right from the initial stage to the final step. The ultimate installation is incredible and honestly, it is one of the easiest and most impactful. It saves your time and also an additional cost.
Completely recyclable & biodegradable
Solar shades are made up of 100% recyclable and biodegradable materials. These materials have a 20-year life span and it is perfect in both saving money and being eco-friendly. Besides this, solar blinds are a beautiful streamlined shade that works with any room and also provides an additional touch to the home to provide it a sophisticated look. It also works well with any decorating style.
Availability of a wide range of designs
It is true that solar shades are available in wide a variety of attractive designs and are proved to be economical to be in the long run. You can choose them in various sizes, shapes, and styles to suit your home or official space. It also enhances the look of any living space as it is attractive and appealing. It goes well with the outline of your living room or dining area.
Provides a clear view of the outside
Having good-quality solar shades installed in your home makes it more attractive. It makes you have a look at the outside view from the window. Besides this, it protects you from the harmful ultraviolet rays of the sun. It also eliminates the deterioration of your upholstery and carpets, hardwood floors, and artwork and fading away. It automatically has the ability to in lowering the indoor temperature during the hot summer days. In this way, it helps to conserve energy and saves from excessive heat.
Enhances your interior comfort
With the solar shades in your home, you can stop bright glares from the sun. It can be sometimes irritating, especially in the morning when you wake up. Direct light from the sun can be harmful to your skin. When it hits the surface and reflects back, it can cause discomfort and harm to the eyes, so therefore, having good solar shades can save you from unnecessary harmful radiations.
Solar shades Vs. Roller shades – What you should choose?
Solar Shades: They are extremely helpful in protecting your home from the harmful UV rays. It blocks the unnecessary sun radiations that can damage and fade your furniture. In addition to this, you can enjoy the beautiful views of outside. Lighter shades always reflect heat away from your home and provide you with valuable energy savings. It brings you an openness and privacy that you deserve.
Roller Shades: In this, you can choose from the sheer to light filtering and also room darkening to blackout. There can be creativity in this that you can choose the range from sheer to completely dark. It can be used for even more light control, giving you the freedom to be as minimal or vibrant as your desires to be fulfilled. Besides this, they are a great idea for you if you are the person who prefers to make a statement in a room.
The Bottom Line
It is not a difficult job any more to find the best blinds for windows. Now when you know the various benefits of solar shades, there is no point to be confused in choosing one for your home. They can protect you from the heat in summers, easy to install, and also biodegradable in nature. In addition to this, they provide you a clear view of the outside without going out in the sun; in this way, they help you to have a comfort zone inside the home only.
Hopefully, this article was useful for you regarding your choice for solar shades!
Thanks for reading!