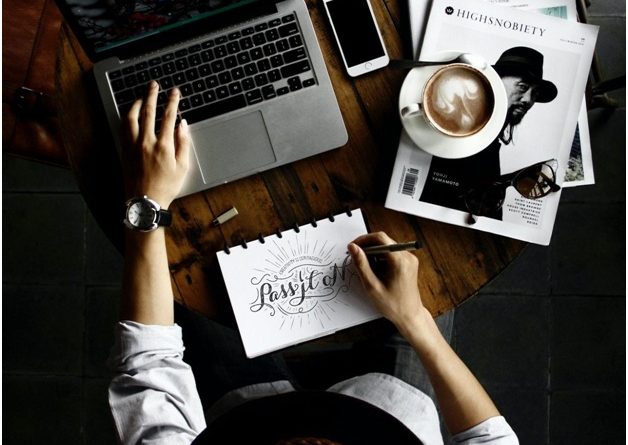 An effective logo has the power to attract the attention of the visitor, so it should be designed creatively which impresses people a lot. If anything goes wrong in the design, it gives adverse effects that can take visitors away. Whether you are a beginner or an experienced designer, you need inspiration and inspiration. In order to help you, we have assembled a list of 40 creative and innovative logo samples, with tips to help you design the best logo for your company.
The purpose of the design process will be to make the logo recognizable and mesmerizing, these effective samples help you create a powerful logo design.
Here are 40 creative samples
Make a notable design – The best way to keep your logo in a viewer's mind is to make something unique. The color scheme, fonts, design, all must be chosen wisely to create a memorable design.
Use an image that reveals your subject – Words have specific meanings. Similarly, images can also have meanings, specifically the style in which they are drawn. Thinking about such a design can help you make a more effective logo.
Create an image within an image – If you want your logo to stand out exclusively, try an image that makes two different pictures. Make sure your "doubled" image compliments your brand, so start experimenting.
Demonstrate the aim of your brand- Design a logo that reflects the purpose of the brand.  Take puma, for example, using panther as a logo, Puma summarized the feature of its product.
Integrate your product into your font – Try to include your product in a logo in a fascinating way, for example, FedEx.  Do experiment with fonts and see what images you can make with text.
Try visual metaphors– One way to create a top-brand mind is to use notable and meaningful visual metaphors, which effectively combine the concept and personality of the brand.
Use negative space– There are fun and artistic ways with negative space that you can use in designing logos. Use the space between the image effectively. Playing with them can make exclusive, interesting effects create simple pictures more effective
Make a GIF version of your logo – Animation always entices attention more rapidly than a static image. Using the GIF version of your logo really works well. Pro tip- use appropriate speed to attract the eye.
Create a variation of animated versions – Using a series of animated logos that can be another great alternative to standard logos. Such logos are more outstanding and can make things more entertaining for the viewers.
Exhibit more with less – You can get a lot of benefit from a simple design, just try the integrated design in the best and creative way.
Incorporate with your name – Sometimes you do not need an image that is right linked to your product; the one that signifies your name also works well.
Select a font with the correct "personality"- Creating an image and text in a comparable style can help boost the harmony of your logo. So, choose cleverly.
Use a silhouette- The silhouette is a modest way to make a logo; They keep elements to a minimum, but are still proficient in providing an inimitable style.
keep it simple – While creating a logo keeping simple is always better. Simplicity is incredibly effective for creating a professional logo.
Use a mascot– Everyone loves tiny cute mascots, so using one as your logo may be the finest way.
Use your name in your logo – Sometimes, you don't really need an attractive image; the name itself can be sufficient.
Fit the logo to the product – Ensuring that your logo matches the theme of your product is a must. Elements such as color, font style should complement each other.
Use a visual sentence– Humour is a tried and effective way to make your design more extraordinary, and using a visual sentence is a creative way to exhibit your knowledge and skill.
An ambigram– Ambigrams means words that can be read the same from two or more different directions. Like left to right, right to left.
Transition to your name– A fun way to use animation is to show your logo exclusive, then show your name. It places great prominence on your logo and creates a good relationship with your brand. The simplicity reflects it well, converting the name into a logo.
Use subtlety– Hidden meanings is a creative way to surprise and entertain your viewers.
Use the fonts to draw a picture – Experiment with fonts and letters to make different, interesting pictures.
Use an icon of speech – Making metaphors can be a good way to transmit your meaning faster. Considering metaphors can enhance your logo design.
Match the pictures with the words– Creativity is needed to incorporate pictures with words to make it a powerful logo. When products are contained in words, the whole image becomes more mesmerizing.
Use border – Borders can be a great way to make your logo more diverse and accent unique styles. So, experiment and see which border adds more sparkle to a design.
Use simple transitions – You don't need an attractive animated logo sometimes, modest, subtle movements are more effective.
Boost its meaning with typography – How you write a word can affect its appearances, something that is amazingly effective with a logo. Use specific styles and fonts to reflect your name means and work.
Demonstrate your name in a single image – Creating an image that represents your purpose at a glimpse allows the audience to get inspired and understand very rapidly.
Make it easy to use in various contexts – It is important to create something that is easy to share and looks good and clear across multiple devices.
Use creative ways to use numbers – Numbers can also be used creatively as text or images. Try to make a connection with your name, finding unique ways to include numbers can lead to some exciting designs.
Visualize the meaning of a word – Find ways to display the meaning of a word is an artistic way to create a logo more interesting.
Mix different techniques – Don't bound your creativity to just one method – use a combination to make a more exclusive logo.
Use the precise font – Typography is incredibly imperative in design; can send a message that you aim to send. Using a font that signifies your brand and its mission accurately.
Only one image – Sometimes, one right image is all that you need. As they say, A picture speaks a thousand words.
Experiment with diverse styles – Playing with style can make numerous choices that you might not have even thought of. Create your logo by using diverse styles, and see which one suits you best.
Use humor – See what you can do with your words and images to create a comic. Humour logo attracts the attention of the audience.
Make your logo everlasting – Imagine what your logo will look like after 5- or 10-years Will your viewers still like it? Do not use specific technology for a certain age.
Use repeating elements – Repetition of few elements can lead to numerous things: it can make a design more reliable, save time, and even make it more outstanding.
Include Hand Picture– Traditional, hand-crafted logos can make nostalgia and create an authentic feel. To give a welcoming or friendly touch; A hand-made logo can be a great way.
Make with black and white – Black-and-white logo can inspire consumers to focus on the essential and defined components of a product.
Wrap up
Freelance Bazaar has many ways to create a fun, memorable logo that expresses your purpose and product. So, start experimenting, and see what sample and tricks work well for you.