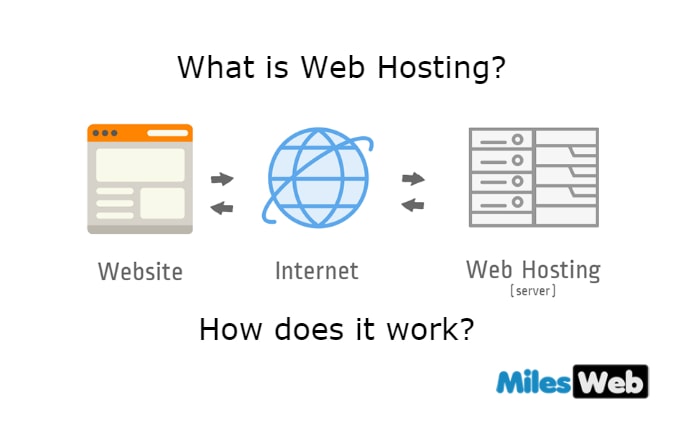 What is Web hosting?
Web hosting is a service that helps you to take your business online within no time. It's a service where you get storage space to store your website data like files, images and videos. When your website gets live on the internet, anyone can access your website from other computers that are connected to the internet.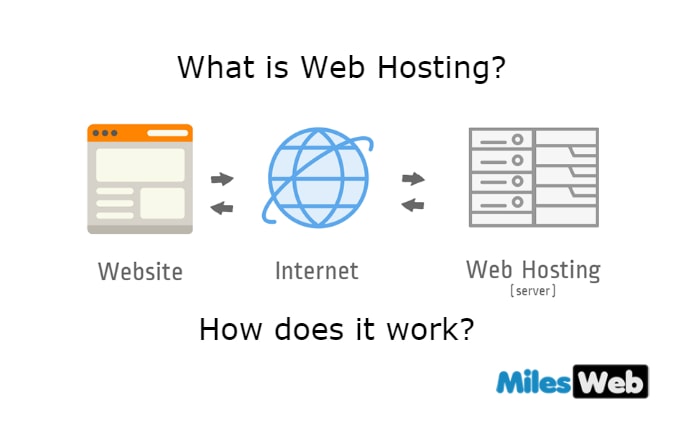 How web hosting works?
A web hosting provider offers a service and technologies to host a website on the internet. When your website gets live on search engine, users can operate it by typing your domain name in the web browser. When a user searches your website on the internet, computer connects to the servers where your website is hosted and transfers that data to the visitors to their web browser.
How to choose a web hosting provider?
Below are the some basic questions that you should ask yourself, before choosing a web hosting service provider:
1) How long the web hosting service provider is in business?
2) How many years of experience does their technicians have?
3) Is their technical department available 24/7?
4) How you handle your website security?
5) How many websites on each web server?
6) How frequently the website backup is taken?
7) Do they offer a money back guarantee?
8) How do they manage website downtime?
9) How many E- mail accounts can be created?
10) What makes them better?
My Recommendation:-
If you ask my opinion, then I will suggest MilesWeb hosting. MilesWeb is an Indian web hosting company located in Nashik, Maharashtra offers domain and web hosting service at an affordable cost. MilesWeb is one stop solution for the users like bloggers, webmasters, designers and developers and more. Their support service is available 24*7*365 days and they are reachable via chat, email, phone and ticket system. They offer three plans in the web hosting along with attractive offers. Check the below plans of hosting:-
For India location:-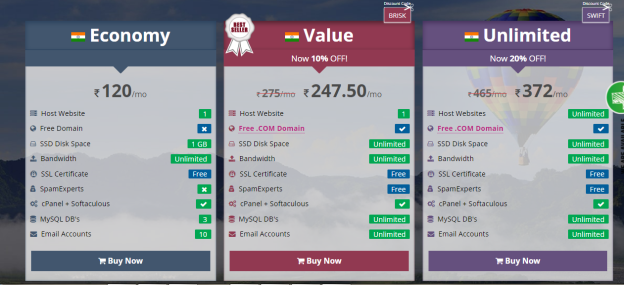 For USA location:-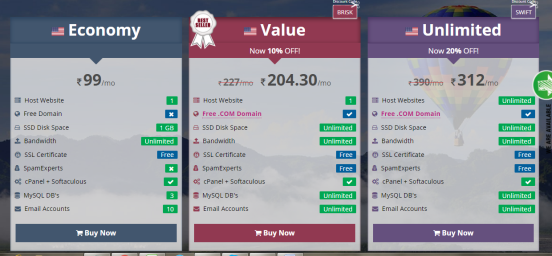 Features offered by MilesWeb:-
1) Free .COM Domain
2) Solid-State Drives
3) Free SSL Certificate
4) SpamExperts for Email Spam Protection
5) Free Malware Scan & Removal
6) Website Backup in Cloud & Restore
7) CloudFlare CDN
8) Sitebuilder with 400+ Templates
9) Built-in Page Caching
10) Free Website Migration
11) LiteSpeed Web Server
12) Instant Chat Response
13) Support in English, Hindi, Marathi
14) 99.95% uptime
15) 30 days money back
Additionally, they offer few paid services like SiteLock basic, Analytics Integration, Google webmaster, SpamExperts and Website backup and restore. You have to pay just a small amount to avail the service.
How to select web hosting plans for my website:-
1) Reliability: – It is one of the crucial factors that you should look while buying your plan. Check the uptime of the server locations along with support service.
2) Flexibility: – When your business starts growing you need to upgrade your plan and there are few questions which you should ask to your provider:-
Is it possible to easily upgrade the plan in the future?
How much is the cost of upgradation?
If I want to switch the provider then is it easy to change?
3) Quality:- Yet another important factor that you need to consider. In short, I will suggest you to select the plan which offers you the latest technology.
4) Price:- There are multiple providers out there that offer hosting plan at a cheap rate. Select the plan where you will get quality along with the quantity.
Know various hosting options
1) Shared hosting:-
Shared hosting is the best option when you are starting a new website or blog. Many hosting providers offer shared hosting at cheap rate and it is one of the most used hosting solutions because its budget friendly. Check MilesWeb shared hosting plan starting from Rs. 699/ Yr.
2) WordPress hosting:-
It is always suggested to use self hosted WordPress service because you get multiple benefits. Looking for best WordPress hosting plans, then check MilesWeb hosting plan starting from Rs. 455/ mo.
3) Reseller hosting:-
Are you a designer and looking to host your client websites? Then reseller hosting is the best option because you get opportunity to resell the service and earn money. MilesWeb offers two types of reseller hosting plans one is unlimited Linux reseller hosting plan starting from Rs. 640/ mo and second is a cheap reseller hosting plan starting from Rs. 348/ mo.
4) Dedicated hosting:-
In this type of hosting solution, you get complete freedom to manage your own server. Check MilesWeb dedicated plan starting from Rs. 4900/ mo.
5) VPS hosting:-
VPS hosting solution acts as intermediary between shared and dedicated hosting. If you are looking to switch to VPS from shared hosting? Check MilesWeb VPS hosting plan starting from Rs. 585/ mo
Conclusion:-
This article must have given a in-depth knowledge about what is web hosting and how it works and more. Found the article worth? Do share and comment below in the comment box.