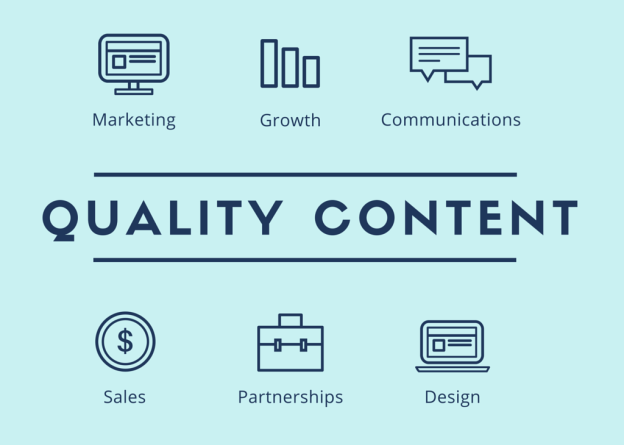 User experience is as important for websites as oxygen is for human beings. When a user visits a website, he decides within the first few minutes about whether he wants to continue browsing the website or not. Quality user experience can get you good traffic in a decent time span. Top notch content is obviously important for getting traffic, acquiring better SEO ranks and attaining various other related perks. Why is quality content important? Some of the reasons are explained below.
Prevention of Google Penalties
There is no doubt that search engine penalties can be killing. Google applies penalties on websites that violate its policies. One of the many violations that have to be avoided is submission of low standard content. For Google, websites with readability are able to get better ranks people show more interest in them. As more people are interested in these websites, the traffic rate on these websites increase and this obviously helps the overall rank. You have to make sure that your content is not copied. Good practice is to use plagiarism tool in order to identify any copied text from your written work.
Not having quality content on your website may result in the application of a penalty by Google. As the most commonly used search engine has very high standards, a website only makes it to the top when it has the finest content. Some websites take shortcuts when the content is being paraphrased. In the present SEO environment, this can hamper the reputation of the website.
For any website to impress the customer, having well researched content is very important. You should explore aspects that have not been covered by competitor website. Content quality is important because it helps you in going ahead of your competitors.

Creating Brand Awareness
Why would people be convinced about your website if they do not have awareness of the brand? To grow your clientele, your targeted audience should have complete awareness of your brand and what you have to offer. With high quality content, you can construct a proper bond with your customers. To grow as a brand, this is an important milestone.
It is not necessary to simply praise your brand on your website. Too much flavor of product promotion can actually have a negative impact instead of a positive one. Hence, do market your products / services in the content but make sure that the entire content does not have a promotional tone. If you have a suiting brand, do not make claims of how the fabric is better than other brands. Customers prefer brands that offer product related information instead of making ideal promises. Every brand claims to be the best and this does not impress the customers in any manner.
To get conversions, brand awareness is very important. Why would people spend money on your product if they do not know what you sell, the reputation your company has and level of reliability. It takes a decent time span for a brand to capture the attention of consumers. With regular content on your website, this milestone becomes a lot easier.
As a brand, if you are successful in getting customer attention, consider the battle won. Before you get the attention of the targeted audience, they should have complete knowledge about your brand. If you have top quality content, this task would be accomplished without any problem.
The Concept of Content Scoring
If you have various content options to publish on your website, it is important to opt for content that would create the strongest impact. You need to gauge the capability of each content piece. Some content pieces produce better conversion rates than the others. If you have high scoring content on your website, you would not have to wait a healthy count of traffic.
High standard content meets specific customer needs
Each customer who searches for information on the internet has a different set of requirements. Someone searching for top football gears may be a sports journalist of a common man looking to purchase these products. When customers search for information online, their biggest priority is to get content that is closest to their requirements. If your website is good enough to entertain customer needs, it would get good traffic and become a highly preferred option. The flip side is that if proper attention is not paid to the content, customers would not find the information that they are looking for. As a result, they would prefer the alternate competitor websites available.
The important of quality web content has increased mainly because customer preferences have changed. People prefer reading through the content before they judge a product or purchase it. If you want serious customers on your website, you should make sure that it is always beefed up with well researched quality content.
Preparing quality content is something that requires concentration, detailed research and proper hard work. The key problem is that most business owners do not invest this effort. As a result, they fail to get quality traffic on their website. Along with that, submitting related content does not mean that it should be copied. Plagiarism can even remove a website from the rank list for ever. Thus, you have to ensure that none of the content pieces have been copied from any source. Each line should be original and rephrased properly.
Thinking beyond text
Anything that the audience find attractive and helpful falls under the umbrella or quality content. It is not necessary that content should comprise of text only. In addition to that, today, websites depend more on info graphics, videos and images. The goal is to develop interest in the mind of the targeted audience.
The content on your website should be exciting and unique. Anything that appeals to the audience would improve the growth of the website. It can be images, videos, info graphics or any other content category.
Why is visual content more effective for attaining traffic? This question has a very simple answer. Visual content has creativity which clearly lacks in written text. For instance, if you go through a video on banking, it would be easier to understand as compared to written content. People would show more interest in videos and images as compared to text. When you talk about visual content, it provides in-depth understanding even if you give a glance. Other than that, visual content adds color to the website.
If you look at the top ranked websites today, you would realize that the use of visual content is increasing. People use more images and videos as compared to written text.
Increasing the knowledge base of the customer
When we browse the internet to buy something, we mainly look at products which we are aware of. Customer awareness is important for a brand if sales volumes have to be increased. A sensible customer would obviously not invest his hard earned money if he does not know enough about the product. Before they buy anything, they attain complete information.
If you want your brand to grow, you have to start with customer awareness. Make sure that your website offers enough information to the customer including features and variants.
Videos are quite explanatory. You can cover content that would stretch for several pages in a video for few minutes. Even either wise, customers are more interested in viewing videos and not understanding written content.
Product related content on websites also helps users in making the right move. When a customer sees that the information on the product website fulfills his needs, he becomes positively inclined to buy it.
On your website, there are several sections that add to the knowledge of the customer. As a brand owner, you should be well aware of where the required content has to be added. Most customers view the "About Us", "Services" and "Home Page" of the website so these sections should have well drafted quality content. Usually, customers start with the home page. If they find it interesting, they advance to the other sections.
Conclusion
It is impossible to take a website to new heights if it lacks high standard content. Having top notch content means that readers would be more interested in reading the presented information. It is good to have a quality user experience factor but that is not productive if the content is not up to the mark.
Business owners should make sure that the best content resources are working on their content. Only experienced content developers are able to draft information according to customer needs. Simply giving an overview of the content is not what impresses the customers. Readers tend to dig deep into what has been written. They only turn into a regular visitor if they feel that the information adds to their knowledge. Regular content makes the customer feel that the company is concerned about his interests.
It is obvious that the correct keywords are used in the written content. This helps a website is getting a good position against a searching phrase or set of keywords. The use of keywords has to be balanced and you should be aware of the frequency in which they are used.